Bearings | NIKKI nut | precision lock nut | SKF bearings | NSK Bearings | FAG bearings | INA bearings | NTN bearings | FKD lock nuts | OSBORN bearings | MRC bearings | MCGILL bearings | precision locking nuts | TIMKEN bearings | THOSMON Bearings | hydraulic bearings | crescent bearings | FYH bearings | IKO bearings | THK bearings | NACHI bearings | SMITH bearings | NHBB bearings | NICE bearings | KAYDON bearings | RBC bearings | DODGE bearings | ASAHI bearings | SNR bearings | trade co., LTD
Customer Service Tel: + 86-022-84812207
Customer Service Fax: + 86-022-84812017
---
NMB bearings
Release Time: 2016/3/29 Hits:729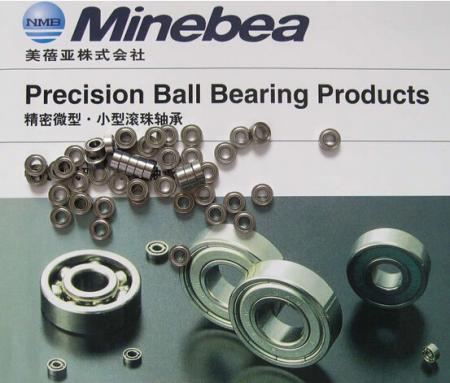 Since NMB Bearing Group Corporation started in 1973 to carry out production and business activities outside Japan in Singapore, Asia-centric expanding production base. Venture over 60 years now, the company has developed into 32 production bases in 18 countries, 39 sales bases, 17 R & D base, the total number of employees reached 55,000 R & D, production, sales and after-sales service one of the precision parts multinational company.
Group outer diameter of 22 mm or less of miniature ball bearings, spherical plain bearings and bearing joints in areas such as aircraft rod end, all the world's number one market share performance in these areas is the leader. In addition, the Group produced hard drive permanent magnet motor, axial fan motors, stepper motors and other small, micro-motors, measuring devices, LED backlight and other high-precision, high-quality precision parts and components products sold around the world.
Fold NMB Bearing Company in China business
NMB Minebea Group in 1994 in Qingpu District, the scenic banks of Dianshan established Shanghai Minebea Precision Electrical Co., Ltd., two companies affiliated factories within the group are called the Shanghai factory, West Cen factory. Shanghai Minebea's main products are miniature, small-diameter ball bearings, axial fan motors. Shanghai Minebea Group plant is set up in the world of the tenth ball bearing factory is the largest group of micro, small diameter ball bearing factory stop production. Xicen addition to the factory production of axial fan motors, starting in 2001 increased by a measuring instrument or other products. Up to now, Shanghai Minebea has developed into a staff of approximately 5,100 Japanese-funded enterprises.
Minebea Group invested in 2003, the production of computer keyboards, film and other products Shanghai Shun Ding Technology Co., Ltd. in 2010, the acquisition of Zhuhai Minebea Precision Motor Company production of DC brush motors, vibration motors and other products, as well as the production of precision Dongguan city first die mold precision industry Co., Ltd. was established in 2011 to invest in the production of LED backlight Minebea electronic Technology (Suzhou) Co., Ltd.
In addition to these production base, the Minebea Group has in Shanghai, Shenzhen, Hong Kong (1983 set up office) opened a sales base since 2002. Also in 2010, in Dalian, Beijing, Wuhu, 2011 opened a sales base in Chengdu, Wuhan, Xi'an and other places. Up to now, a total of about 200-member sales team to provide meticulous service to customers.
Folding Edit this paragraph NMB Bearings
Fold NMB micro and small ball bearings
NMB miniature ball bearings are held by the outer ring, the inner ring, rolling, rolling, seals (shields) and spring rings composed of machined parts. An outer diameter less than 30mm are called micro and small ball bearings, in order to ensure high accuracy requirements of stable operation of rotating equipment shaft bearing is assembled in parts of precision parts.
Fold NMB rod end bearings and spherical bearings
NMB rod end bearings and spherical bearings works like the body's joints, are widely used in aircraft wings of the movable portion, the connecting portion aircraft engines and wings, all kinds of door switch portion of the aircraft, and helicopters, trains, motor vehicles, power plants, construction machinery, ships, game equipment, aerospace and other fields.
Folding machine bearings NMB
Machine bearings are ball bearings for industrial machinery, with respect to small ball, the ball and the number of materials are different, the structure is more emphasis on durability.
Fold NMB bearing bush
Widely used in aircraft bearing bush movable portion, also commonly used in helicopter rotor spindle and aircraft landing gears. Minebea Group and its inner flange surface using a self-developed Teflon material, enabling use without the need for conventional lubrication conditions.
Fold NMB and medium-sized ball bearings (aircraft-related parts)
Application of aviation equipment, ball bearings, with respect to the ordinary small ball, the ball and the number of materials are different, more emphasis on structural durability.
NMB folding roller bearing (flight control parts of the airplane)
Roller bearing is fixed by a roller cage bearing inner race and outer race between can be self-aligning bearings. Spherical roller bearings are divided into single row and double row self-aligning roller bearings. Compared with ordinary spherical bearings and rod end bearings, characterized in that the lower starting torque. Roller bearings are important components for the aircraft's flight control system.
NMB folding roller bearing (engine parts of the airplane)