Bearings | NIKKI nut | precision lock nut | SKF bearings | NSK Bearings | FAG bearings | INA bearings | NTN bearings | FKD lock nuts | OSBORN bearings | MRC bearings | MCGILL bearings | precision locking nuts | TIMKEN bearings | THOSMON Bearings | hydraulic bearings | crescent bearings | FYH bearings | IKO bearings | THK bearings | NACHI bearings | SMITH bearings | NHBB bearings | NICE bearings | KAYDON bearings | RBC bearings | DODGE bearings | ASAHI bearings | SNR bearings | trade co., LTD
Customer Service Tel: + 86-022-84812207
Customer Service Fax: + 86-022-84812017
---
NHBB bearings
Release Time: 2016/3/29 Hits:1412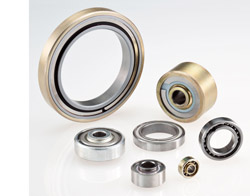 Ou Maite Tianjin Bearing Co., Ltd. to provide you with US NHBB bearing the company's details are as follows: NHBB bearing is a major production of complex precision bearings and bearing components for aerospace, defense, medical, dental and high-tech markets. NHBB diverse product portfolio includes precision miniature and instrument ball bearings, large ball and roller bearings for aircraft engines, and special rod ends and spherical bearings of different aircraft applications. The company has three production facilities in the United States and employs 1,500 workers. Founded in Peterborough, NH 1946 Nian, NHBB global manufacturing giant bought in 1985. In addition to providing a wide range of standard bearings, NHBB tailored bearing design and manufacture of aerospace, medical, dental and high-tech industries. Consult our engineers as soon as possible utilization of the development of the most advanced bearing design technology.
Minebea Co., Ltd.
Minebea flag
Minebea Co., Ltd. is the world's leading vertically integrated production of miniature ball bearings and precision components for the aerospace, automotive, household appliances, computers and peripherals, and telecommunications industries. Minebea 49 subsidiaries operating in 18 countries worldwide and employs more than 55,000 people. In addition to its global manufacturing capacity, Minebea's vision is to lead the competition by extensive research and development of new methods and techniques.
NMB (USA) Co., Ltd.
NMB (USA) Inc. is the North American headquarters of Minebea Group of Companies. Minebea management holding company founded in 1984, the US subsidiary, NMB Technologies and New Hampshire Ball Bearings, Inc. (NHBB). The NMB (USA) company supports the company's global manufacturing capacity of Minebea Co., Ltd.
myonic GmbH is a
Myonic flag
myonic GmbH is specialized in producing precision miniature ball bearings and wheel bearings AX leader in dental, medical, machine tools, industrial and aerospace markets. The company in the European mobile phone industry leadership position, a major producer of the bearing assembly for the European x-ray tube market. In the United States, myonic customer service through myonic US NHBB division.
myonic owns and operates APB myonic GmbH is a company, a trading company located in Ebensee, Austria. Subsidiary to Supply Shaft roller bearings, screw drive bearings, multi-row roller bearings, and custom bearing products to customers in rolling mills, gear boxes, and general machinery industries. Access apb-myonic.com to learn more.
Minebea myonic GmbH acquired in 2009, is part of a NHBB / myonic business unit. Learn more about myonic, please visit www.myonic.com
CEROBEAR®GmbH is a
CEROBEAR®GmbH is a
CEROBEAR outstanding bearings manufacturer of advanced ceramic technology in the world. Acquisition NHBB 2013 Nian Yue. 6, CEROBEAR Minebea NHBB part / myonic business units and NHBB immediate operating as an independent subsidiary. The company specializes in the design, engineering and manufacturing of customized ceramic and hybrid ceramic ball and roller bearings for the aerospace, defense, food and beverage packaging, fluid machinery, cars, semiconductor manufacturing equipment industry. The company is located in Herzogenrath, Germany, it is the two facilities (50,000 sq. Ft.) And employs over 100 highly skilled workers.
Learn more about CEROBEAR products and production capacity.